My Games
Sheep Snaggers is a fast action-based shoot-em-up loosely based on the Williams arcade classic Sinistar.
I started development after a request on the YakYak gaming forum for submissions for a disk of member-developed games for the annual Retrovision event. The game is written in Python, using Pygame and the OpenGL based Rabbyt sprite library for enhanced performance.
In keeping with the llamasoft inspired theme, the action has been relocated from deep space to a field of merrily frolicking sheepies. Unfortunately for our wooly friends, an evil band of maurauding aliens are hell-bent on kidnapping them to build their deadly MarkieStar - a space station of devastating power...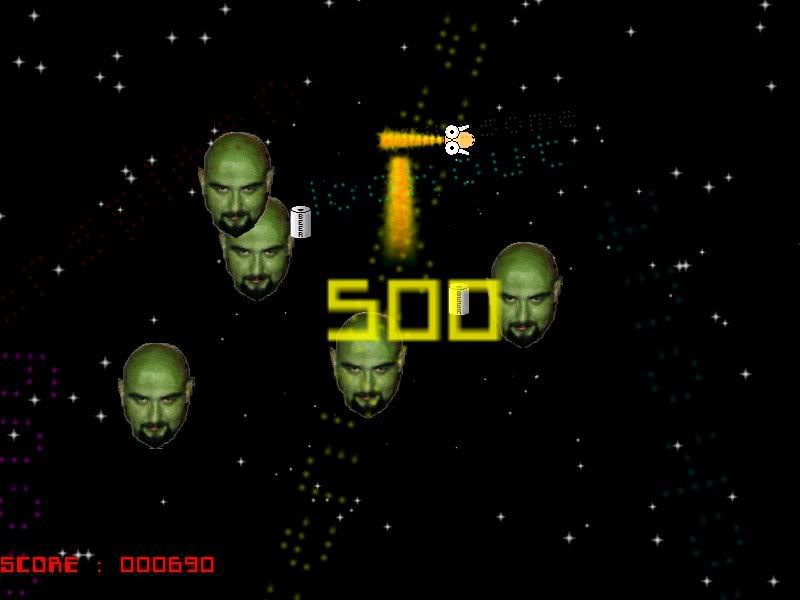 The aim of Markie's Revenge is very simple. Guide the Starsheep to stay alive as long as possible and don't get killed by the green Markie Ming heads!
The controls are also very simple, pressing space bar to start the game and move around the screen by using the arrow keys on the keyboard. You can also drink Beer and eat Curry to increase your score, but these also have realistic effects!
World debut at Console Combat, 25 July 2009 in Manchester.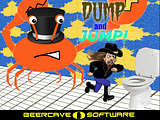 Holy Crab! It's curry night, and Beerman's favourite curry house has been overrun by an an army of gentleman crabs! But no top-hatted upper-class crustacean can come between Beerman and a vindaloo... Guide our hero around the restaurant, collecting the curries and 'delivering' them to the bathroom, but watch out for those swanky shellfish. If the heat gets too much, you can slow them down by leaving them a little 'present'.

Shamelessly stoleInspired by OddBob's excellent War Twat, Gun Bastard is an arena shooter with mental visuals and ridiculous levels of firepower.
This is currently a work in progress...
Daft little flash game I knocked together to test out
Flixel
Other Stuff
Input wrapper class for handling multiple controllers in pygame.
Quick and dirty spritesheet generator
The Beercave Games Beerware license. Like my games? Buy me a pint!